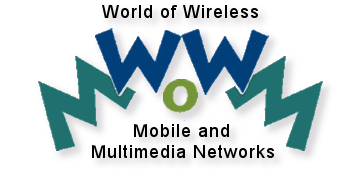 IEEE WoWMoM 2013





EXPIRED

Industry Track
4-7 June 2013, Madrid - Spain
IEEE WoWMoM 2013
The Fourteenth International Symposium on a
World of Wireless, Mobile and Multimedia Networks
Sponsored by: IEEE Computer Society, University of Texas at Arlington, and IEEE Technical Committee on Computer Communications (TCCC)
IEEE WoWMoM 2013 is soliciting original and previously unpublished research papers with direct industrial relevance, preferably involving industry researchers and professionals for a dedicated Industry Track, focused on the same topics as those of WoWMoM 2013. The Industry Track is intended to specially highlight system experiences and proofs-of-concept in the areas above. Like regular papers, the Industry Track submissions will undergo a review process by an international TPC and will appear in the conference proceedings. However, the selection criteria are slightly different: papers should describe applications, prototypes or experiments, testbed results, or other practical experiences of clear industry relevance, whereas papers with strictly algorithmic focus or only high-level design details are discouraged.
A key goal of this session is to present systems-oriented research that exposes the academic and research communities to real-life issues and problems being faced in industry. Accordingly, papers will be evaluated, on the originality and general applicability of insights that can be inferred from the authors' experience.
Paper Submission
Submission is managed electronically through EDAS. Click here to submit your paper. All the submission rules and instructions for regular papers apply to the Industry Track papers, please see the submission page of the WoWMoM 2013 website.
Paper submission deadline: February 28, 2013 March 14, 2013
Acceptance notification: April 8, 2013
Camera ready deadline: April 21, 2013
| | |
| --- | --- |
| Co-Chairs: | Claudio Cicconetti, Intecs, Italy |
| | Vania Conan, Thales Communications & Security, France |
| Technical Program Committee: | Mauro Boldi, Telecom Italia, Italy |
| | Nicola Ciulli, Nextworks, Italy |
| | Alessandro Erta, Fluidmesh, Italy |
| | Rohit Gupta, Signalion, Germany |
| | Pierrick Seite, Orange, France |
| | Adam Flizikowski, iTTi, Poland |
| | ZarrarYousaf, NEC, Germany |
| | Géraud Allard, Sagem, France |
| | George Wright, BBC, UK |
| | Laurent Roullet, Alcatel-Lucent Bell Labs, France |
| | Oscar Lázaro, Innovalia, Spain |
| | David Valerdi, FON, Spain |
| | Zongrui Ding, InterDigital, USA |
| | Alexander Sayenko, NSN, Finland |
| | George Agapiou, OTE, Greece |
Website template by
styleshout